Screw it!
"The Weekly" was the Sunday staple at Cubs Central for years. I missed calling the Sunday post at North Side Bound that name. So, I am bringing the title and format over here. I feel so much more comfortable now.
Let's get to the first "Weekly" at North Side Bound!
When I first started my Friday morning walk at school to write this post, I thought, "Man, it's been a slow news week!" But the more I walked, the more I realized it wasn't a slow news week after all. There was something happening almost every day and there actually turned out to be quite a bit of stuff going on.
When it comes to actual prospects, Max Bain appeared to be everywhere. He showed up live on The Rant on Monday night. He also made his way onto the Growing Cubs podcast with Greg and Jimmy. And Bain had his own podcast as he has discussed his development and more along with Burl Carraway, Joe Nahas, and Jordan Wicks in a very interesting series of discussions!
As for several other prospects, it seems as though the dead lifting craze is catching on as several prospects showed pictures of themselves doing deadlifts. We had Manny Rodriguez, Ethan Roberts, Max Bain, Adbert Alzolay, Richard Gallardo, and Burl Carraway. It was fun to see as it shows just how much these guys are trying to improve their muscle groups.
The Cubs also added a few players on MiLB deals, some looking to earn a 26-man spot along with a non-roster invite to Spring Training.
In addition, a couple of lists came out. One was a prospect list and the other was a top draft list.
FanGraphs Top 49
Greg Huss covered this for North Side Bound early in the week. For me, it was quite shocking to see FanGraphs actually put out a list six months earlier than they have the past two years where they've waited until close to draft day to do so. The reason for the change is the Cubs had fall instructs in October and writer Eric Longenhagen was able to get in to see the Cubs during that time.
As we're going to see throughout this winter, the top 20 of each list going to be filled with pretty much the same guys but in radically different orders. The only constant will be Brennen Davis at the top and then a lot of kids jumbled in there in varying orders. I was pretty hyped to see Zac Leigh come in at 21. I also was a little surprised to see Alexander Vizcaino at number 10. Vizcaino has an extremely live arm, but he also has a troubling shoulder. Perhaps the biggest stunners were Ryan Jensen falling all the way to 19 and Kevin Made only coming in at 38.
Tomorrow, the four of us here at North Side Bound will go into further detail about FanGraphs' and Baseball America's lists.
Later in the week, FanGraphs took a deeper dive into the ascendance of Caleb Killian as a Cubs pitching prospect. Good stuff!
MLB Pipeline's Top 100 Draft List
On Wednesday, MLB Pipeline released their top 100 draft prospect list about two weeks earlier than normal. It was not a real shocker to see Druw Jones at the top followed by Termarr Johnson and Elijah Green. When it comes to the Cubs at number seven, they are going to get a very good player as we mentioned last Saturday. If Chase DeLauter or Dylan Lesko is available at seven, the Cubs are going to have extremely hard choice selecting one over the other.
On Thursday night, MLB Pipeline released their latest semi-mock draft where they only went picks 1 to 10. Falling to the Cubs was none other than Dylan Lesko. I would be more than OK with him becoming a Cub. He could be that ace they've been looking for and the Cubs' next number one prospect.
That same night, Greg Zumach put out a cool article here at North Side Bound about the value of the Cubs' 2022 second round pick. It's very interesting as Greg analyzes whether it is worth to sign to a free agent and lose that pick.
New Pages
On Friday, North Side Bound released their new affiliate pages. They include a lot of good stuff including a depth chart for each affiliate, pics, and some article links!
Video of the Week
You probably thought it was going to be wone of the dead lifts by a prospect. Instead, it is going to be a video of Babe Ruth and Lou Gehrig taking batting practice. Enjoy!
Pic of the Week
Well, it is baseball card related so this wins handily. It is all the position icons from Topps' 1973 cards.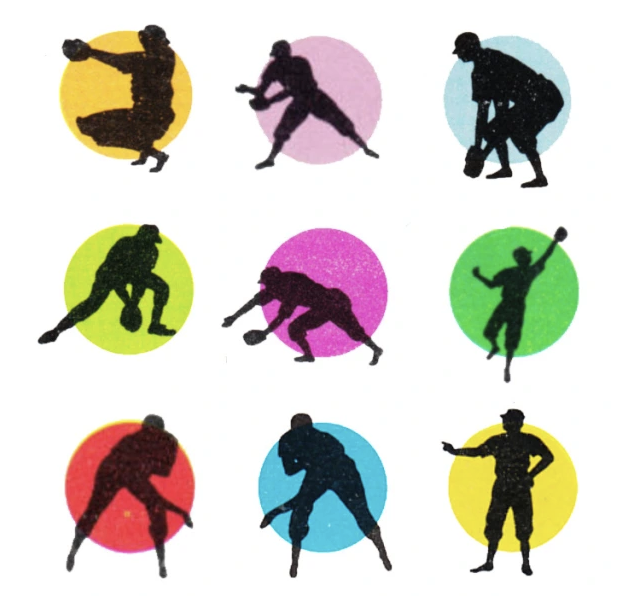 Card of the Week
As each semester draws to a close, I tend to do a lot of file management between my computer, Google drive, and my external hard drive. I did find this cool picture of Yonathan Perlaza and turned it into a 1973 card which I think makes a classic look.
Coming Up Next Week
Tomorrow we will have our roundtable discussion about the two prospect lists that have come out the last couple of weeks. On Tuesday, the minor league mailbag will return with a discussion about shortstops moving off the position. Wednesday has a profile/to-do list for Yohendrick Pinango. And then on Friday, right-handed starting pitchers will be getting ranked in the offseason series.
Jam of the Week
For some reason this month, it seemed my iPod kept playing John Mellencamp's classic "Check It Out" every 10 songs. That might be an exaggeration, but my students knew all the words by the end of the semester and were humming along with the music.