Brailyn Marquez – Photo by Todd Johnson @CubsCentral08
It doesn't seem that long ago that Brailyn Marquez made his professional debut in Chicago when he pitched 2/3 of an inning. At the time, he was arguably the Cubs number one prospect for most national publications. As a lefty who could throw 100 miles an hour, he was somewhat seen as a unicorn by several evaluators. There were concerns, though, about his command of his pitches, but there was no doubting the velocity.
Fast forward to this week.
There are lots of questions about what lies ahead for Marquez after he missed all of 2021. First, it was Covid and then he had a shoulder issue that did not require surgery. It was thought that if he was healthy enough, he might participate in the Arizona Fall League but that did not happen.
When I put out feelers for questions for the mailbox, I was not surprised to see plenty of questions about Marquez and his future. Here are three ponderings I received.
---
RobJ08@robj08  – With Brailyn Marquez having a lost season, do you envision him working out of the bullpen in Chicago in 22 and then perhaps being stretched out as a multi-inning reliever and possibly a starter in 23?
Rick@roc0013 – Marquez was #1 prospect but hasn't been able to pitch in 2 years – can he live up to potential as the years slip away?
North Side Pat@ChicagoSoyBoy – Someone has probably asked about Marquez, but if not…1) where do you think he starts in 2022, 2) where do you think he finishes in 2022, and 3) long term what do you think his role will be?
---
I don't think I'm going to answer the aforementioned questions one by one, in detail at least, but I am going to let Jed Hoyer tell most of what the Cubs are going to do with Marquez next year. He told Marquee Sports Network the following about their plans for the 23-year-old lefty.
The strange thing about this quote when it first appeared was that a lot of people inferred that Marquez was going to be in Chicago. 
I'm not getting that vibe at all from what I read.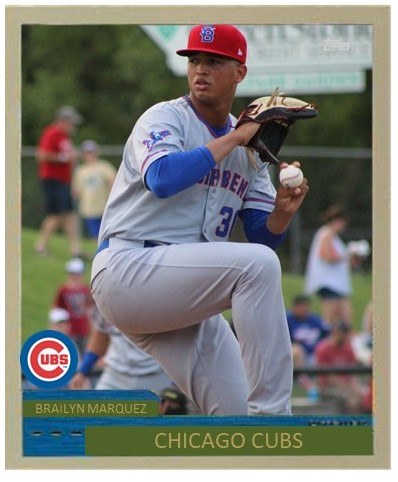 Here's why.
Marquez has only pitched 0.2 innings above High Class-A and that was in Chicago. Even though he was at the alternate site in 2020, in a year where he was slated to probably start the season at Tennessee, there's no better experience than actual games. Facing guys in batting practice is not the same as going against hitters with a stadium full of people with two outs and a man on third. You can't replicate that kind of attention in practice.
For all three questions above, they are kind of the same theme of where Marquez will start and what role he will have now and in the future. Those are kind of double-edged questions in terms of trying to figure out where he is at in terms of his ability without having seen him pitch for what amounts to 15 months. Its akin to Schrodinger's Cat.
If I had to predict, I'd say Iowa.
The Cubs are going to closely monitor Marquez the next few months and they may even start him out of the pen and slowly stretch him out over the course of April and May. That would be my prediction.
In reality, a lot depends on how he looks in spring training. We could see the Cubs use him like they did with Justin Steele the past year and slowly build him up. More than likely, he would be limited to 20 pitches to begin and that would slowly build up to 40, then 50, then 60 over April and May.
While it's not realistic to say that he could be in Chicago on Opening Day, it's not out of the realm of possibility at any point that he could make it to Chicago again.
Trying to predict how players are going to do coming off of shoulder issues is almost like Schrodinger's. Cat. The cat is going to be in the box. Whether the cat is alive or dead you won't find out until you open the box. The same is true for Marquez. He's going to pitch, but until you open him up, you're not going to know what you have until you do. If he's healthy and he's able to contribute in Chicago at any point next year, most people would take that as long as the Cubs are building him up to start every day in 2023. That might be more of what the Cubs are thinking in trying to get him healthy.