In a little over 24 hours, the Cubs are going to announce which prospects they are going to protect from the Rule 5 Draft this winter by placing them on the 40-man roster. Currently, the Cubs have 35 slots filled and they can add up to five prospects.  While that is technically possible, it would also tie up the Cubs' hands a little bit and not allow them flexibility to add to the 40-man roster with ease the next month. They could always release or DFA some players, but Hoyer and Hawkins want to remain pretty nimble this offseason.
While I did talk about the Rule 5 Draft in the Sunday Column, everyone here at North Side Bound has their own opinions on what the Cubs should do and who they should protect. Everybody chipped in and gave their two cents about what the Cubs are going to do on Friday afternoon.
Todd Johnson: After the coronation of Nelson Velazquez onto the 40-man, I am hoping that the Cubs add both relievers Ethan Roberts and Brandon Hughes. I know they are both on the fence as far as being added. I think Roberts' work ethic the next year is what will get him the nod. He's shown the ability to adapt quickly at each level. It does not take long. Once he gets roughed up, he makes the adjustment to never get roughed up again. It's pretty uncanny. As for Hughes, all you need to know is that he is incredibly athletic and that is a huge part of his success since converting from the outfield. That and he's added a slider. I would be so stoked to see him get the nod.
Greg Huss: The Rule Five/40-man roster conundrum actually seems to be the most straight-forward it has been in years. Just don't screen shot this and share it all over social media when all of our predictions here turn out to be wrong. Nelson Velazquez is a lock. In addition to his torrid stretch this season, he brings too much value as a good athlete with speed and incredible raw power to not be added to the roster. Ethan Roberts is also a lock, in my eyes. When adding a guy to the 40-man, you are looking for quirks and elite skills. Roberts spins the ball as well as anyone in the system and brings a low release point that makes him different than most guys. If he doesn't get added to the roster, he will be selected in the Rule Five Draft. My final pick here is Brandon Hughes. When talking about quirks, he fits the bill. A converted outfielder that downright dominated in his first full season focused on pitching is incredibly intriguing. That intrigue is what would get him snatched up in the draft. His results in 2021 are what will get him added to the roster.
Greg Zumach: I can start this right off by throwing out that Nelson Velasquez is an absolute lock to be added to the 40-man roster. Not only did he make impressive adjustments to his swing and approach, but he's been on absolute fire since late July and is getting national recognition. The next player on my list may be a bit controversial, but it's Brendon Little. The 2017 first-round pick finally was healthy (more on that shortly) and effective out of the pen. He produced a 3.24 ERA with a 11.4 K/9 and only a 2.79 BB/9. Little's 2-seam has been a weapon and more successful version of his fastball. He primarily throws a slider and only goes to his curveball occasionally. Unfortunately he exited an outing in the Arizona Fall League with an injury that's now been listed as a stress reaction in his elbow. I actually believe this injury makes it more likely he's taken in the Rule 5 draft since a team can easily use the 60-day IL if he experiences a setback. Rule 5 players only need to be on the active roster for 90 days. I'd roster Little and hope he comes back healthy in 2022 similar to Yu Darvish after his 2018 season ended the same way. Continuing the trend of adding LHP out of the pen, I have to have Brandon Hughes. The converted outfielder added a slider that proved to be a wipeout offering. Finally (yes, I'm adding four players) Ethan Roberts looks the part of a guy of a future set-up man. His spin rates are almost legendary, but he backs them up with above average velocity and movement. Amongst Roberts, Little, and Hughes, the Cubs could hold on to three bullpen contributors and coupled with Nelson Velazquez, the team just may have another name penciled into the lineup for 2022 and beyond. But let's end this with an even bigger prediction: the Cubs also trade for a player from the Guardians and add that player to the 40-man. My picks are for one of Jose Tena, Cody Morris, or Steven Kwan.
Jimmy Nelligan: More than likely the Cubs will add two, perhaps three, guys to the 40-man roster to protect them from the Rule 5 draft. The obvious guy to add is Nelson Velazquez. Before the AFL, I was leaning on him to make it on the 40-man roster, but after his stretch in the fall league, he should be a lock. Also, I expect the Cubs to add Ethan Roberts to the 40-man. His spin rates are some of the best in the system, and his stuff was electric for both Tennessee and Iowa. The question though is whether the Cubs decide to add a third guy in the Rule-5 draft. I could see another bullpen arm like Bryan Hudson or Brendon Little being added. They both were early round draft picks recently moved to a bullpen role where they seemed to find success. If I was another team looking to draft someone in the Rule 5, someone like Hudson or Little would be on the top of my list. The Cubs could sense that and try to protect them.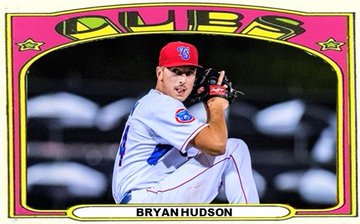 As you can see, the only constants among the four of us is Nelson Velazquez and Ethan Roberts. With the fall Velazquez's had in Arizona, it would be an utter shock if he is not added to the 40-man. As for Hughes, Little, and Hudson, it's a coin flip. If you want a really long-shot, Cam Sanders would be one name, Andy Weber and Danis Correa would be two others. I could definitely see another organization taking Cam and slowly developing him as a reliever. And even longer dark horse would be Riley Thompson, who missed all of 2021. He might be able to be stashed on the bench and IL considering his injury, especially if he is not ready to begin 2022.
As for now, there is no date set for the actual Rule 5 Draft as MLB shut down any activities after the CBA expires on December 1.
Drop your predictions in the comments below!