When this website debuted back on November 1, each of the four authors at North Side Bound released their own top Cubs' prospect lists. When we decided to do that, we thought we would let those lists marinate a little bit in the consciousness of Cub prospect fans and at some point we would release an aggregate or group prospect list. 
Today is the day!
Here is how we did it. We assigned a point value to each ranking by the four of us. For example, Brennen Davis accumulated 80 North Side Bound prospect points because he was ranked number one on all four of our lists – that's 20 points per list. Whoever came in second on each list totaled 19 points while third place received 18 and so on all the way down to the 20 spot, and that player only got one point. 
The most surprising thing in figuring out the aggregate scores was that we only listed 23 players between the four of us. However, there were also some wild variations in those rankings. Greg Zumach and Jimmy Nelligan had Kevin Made extremely high while I didn't even have him in my top 21. Other people didn't even have Christopher Morel or Kohl Franklin on their lists. James Triantos was ranked fairly high on all four lists while Pete Crow-Armstrong, Reggie Preciado, and Kevin Alcantara had some differentiation in their rankings. As for Nelson Velazquez, he had not gone off in the AFL yet when most of the lists were written.
All in all, it worked out in trying to come up with the North Side Bound's first Top 20 Prospect List. We have a really good list and it's pretty consistent in terms of the players on it. We did have three ties. Both players were given the same ranking each time.
So without further adieu, each player is listed by their ranking and the number of North Side Bound prospect points they received based on the four lists.
North Side Bound's Prospect Rankings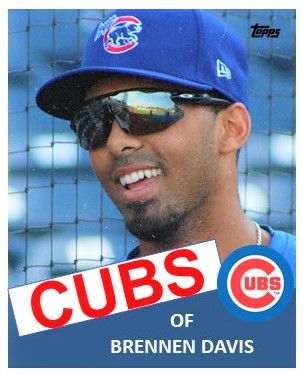 1. Brennen Davis – 80
2. Cristian Hernandez – 72
3. Kevin Alcantara – 63
4. Reggie Preciado – 60
4. Pete Crow-Armstrong – 60
6. James Triantos – 55
6. DJ Herz -55
8. Jordan Wicks – 42
9. Owen Caissie – 42
10. Ryan Jensen – 39
11. Ed Howard – 36
11. Kevin Made – 36
13. Brailyn Marquez – 35
14. Caleb Kilian – 33
15. Miguel Amaya – 24
16. Yohendrick Pinango – 20
17. Alexander Canario – 19
18. Christopher Morel – 18
19. Kohl Franklin – 17
20. Anderson Espinoza – 16
Nelson Velazquez just missed with 15 points. I had him at the ten spot but no one else had him higher than 18. That will likely be rectified in the next set of lists. Jordan Nwogu received 3 points and Chase Strumpf brought home 2.
We do not have a date set for our next set of lists and that will likely depend on trades whether it is addition or subtraction of prospects. Expect to see a lot of variation next year as almost a third of this list will be scheduled to play their first year of full season baseball. We should have a tighter set of lists a year from now as 144 games of experience should change the rankings quite a bit. In addition, Brennen Davis should be in Chicago at some point. Once he hits 130 ABs, he is done as a prospect and we will then have a new top prospect.
Tomorrow, we will be back as we have a little Q & A between the four of us about our lists. Make sure and come back for that!
If you'd like to go back and revisit all four individual lists, their links are below. Those lists have our own comments on each of the prospects we listed. It is interesting how different each of us evaluate the prospects.
Don't miss North Side Bound articles!
Join 3,404 other subscribers