Picture of Cristian Hernandez by Rich Biesterfeld
In just about two months, the Cubs will be signing several young prospects as part of their 2022 international free agent class. The Cubs currently are the favorites to sign shortstop Alexis Hernandez (brother of Christian), 3B/catcher Adan Sanchez from Panama, and shortstop Jefferson Rojas from the Dominican Republic.
As that deadline begins to draw near, I began thinking about how well the Cubs have done in the International free-agent market the last 10 years.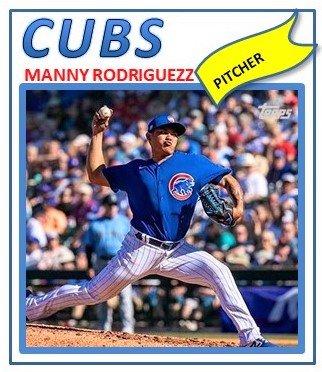 Currently, the Cubs have six players on the 40-man roster that they signed as international free agents. They include pitchers Manny Rodriguez, Adbert Alzolay, and Brailyn Marquez; Catchers Miguel Amaya and Willson Contreras can be added to that list along with utility player Christopher Morel. It seems like the Cubs should have more international players in Chicago than they do considering the hoopla surrounding each signing class the past 10 years. Then I remembered about Eloy, Gleyber, and some issues in Mexico in 2017 with pitcher Florencio Serrano, the Cubs top signing that summer. His contract was voided by MLB as a result of some kickbacks that did not involve the Cubs.
Anyways, for some strange reason, I wanted to sit down and grade out every international free-agent class in the last ten years (tomorrow's post). To do that, I needed some names. So, scouring the Internet, I decided to go find a list for every year. As I was researching I realized that I should probably make a document or a list so that I don't have to waste my time doing it in the future. Then I went all galaxy brain and realized I could do a static web page. I could have every year in one spot and I wouldn't have to do a bunch more surfing with 10 open tabs every time.
So I did it. I built it.
CLICK HERE to see the new North Side Bound's IFA Database.
I'm still doing some work finding out more information about each class as the Internet is somewhat challenging to navigate pre-2010. A lot of websites went under and those pages disappeared. If I let it, building the database could probably be a work in progress for the rest of my life. For now, though, the database will be fine and I'll keep working on trying to build backwards into the 2000s and 1990s.
When we talked about North Side Bound being a one stop shop back on "Opening Day" we meant it.
The IFA Database is the next step in our evolution along with the previous affiliate depth charts and statistics. We have several other ideas brewing somewhat similar to these and they will be coming out over the next few months. You're going to like the new ideas and projects just as much, if not more.