At some point today, the rosters for the Iowa Cubs, the Tennessee Smokies, the South Bend Cubs, and the Myrtle Beach Pelicans will be updated to reflect players that are now free agents. The big league club will also announce that Rex Brothers has elected free agency. With free agency starting on the weekend, most the affiliates will do the rosters when they come back to work today.
Currently Chicago's roster is set at 35. There is still another 11 days until the Cubs have to make their decision to protect any players from the Rule 5 Draft. 
With a looming lockout coming December 1, I don't expect the Cubs to be too busy on the major league free agent front until the CBA issues are resolved.
However, when it comes to the minor leagues, anything could happen over the next month. I would not be surprised to see the Cubs make a few minor league signings today. Most of them will be their own MiLB free agents. I will update those throughout the day along with any other changes to the rosters for each affiliate. Then again, it could be a quiet day.
I will check back in around 9:30 central.
9:00 am
I am checking in a little earlier than expected. The Cubs "officially" announced that Rex Brothers chose free agency. Next time check should be somewhere around 11 am and then 1pm.
12:00 pm
Player movement and roster updates are not happening. However, the Reds hired away Jeremy Farrell from the Cubs MiLB Field Director position to be their new Director of Player Development, which is big step up for him.
The way the Cubs have been adding management this winter, they will probably look to go to someone outside the system again to fill Farrell's spot.
2:45 PM
Well, the MiLB free agent well burst this afternoon with a large amount of Cubs MiLB free agents electing free agents
The following players are now free agents:
Myrtle Beach – Jose Almonte
Tennessee Smokies – Alex Katz and Joe Wieland
Iowa Cubs – Dakota Chalmers, Kohl Stewart, Jackson McClelland, Tyler Ladendorf, PJ Higgins, Mike Hauschild, Juan Gamez, Johneshwy Fargas, Ryan Kellogg, Luis Lugo, Marcus Walden, Ryan Lawlor, Abiatal Avelino, Taylor Gushue, Dillon Maples, Ian Miller
Two notable names missing – Donnie Dewees and Byran Hudson. They signed successor contracts per Arizona Phil of The Cub Reporter along with several others!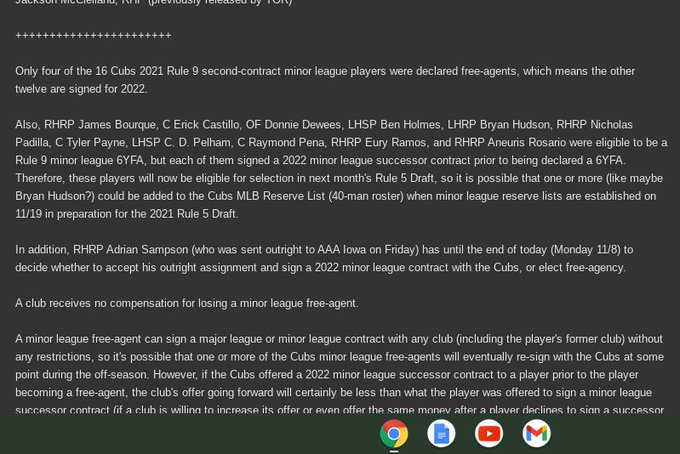 4:49 PM
As well, we also learned that several second contract players will be coming back in 2022. Here is that list:
P Michael Arias, P Aneudis Beard, P Andres Bonalde, 3B Edwin Figuera, P Garrett Kelly, 2B Carlos Sepulveda, P Dalton Stambaugh, P Tyler Suellentrop, C Tim Susnara, OF Vance Vizcaino, and C Harrison Wenson.