It's been a busy first week at North Side Bound! Thank you all for visiting early and often throughout the week! We were ecstatic about the reception when we opened for business on Monday. All four of us dropped our individual prospect lists and those got a pretty good response and we could not be more over joyed! I feel like I'm coming across as a parent who just had another child.
In a way, I am.
For those of you that have followed me over at Cubs Central for several years, you know that every Sunday I do a news and notes column. Those were originally inspired by the Sunday columns of Peter Gammons back in the 80s and 90s. Gammons' columns would often be found on the left-hand side of the Sunday sports section. "The Sunday Column" at North Side Bound, though, is going to have a little different feel to it than "The Weekly" over at Cubs Central.
For one, it's going to more opinion based about the state of the Cubs system on a weekly basis. Right now, that's kind of hard to do because It is the off-season. Still, there are things that need to be discussed. Second, "The Sunday Column" is going to recap the week here at North Side Bound. And third…I don't know yet, but we will get there in time. I put in a poll this week, that could change for next week.
Let's begin!
---
Todd's Take of the Week
Tomorrow is Monday, November 8. For most of you, this is going to be another nondescript day in the off-season. But the Cubs have a lot of choices to make as to whether they retain some of their minor league free agents on the 40-man or they get rid of several players off the 40-man to make room for future guys that are coming via free agency. I would not be surprised to see the Cubs get down to around 32 guys in the next week or two. In fact, they probably should.
Unfortunately, the Cubs don't hold all the cards here. The only way they can keep a future minor league free agent is to add that prospect to the 40-man. They can't make the player sign a successor contract for a 7th or 8th year. Some players are going to take their walking papers and try another organization. To be frank, the big league Cubs are probably not going to lock anyone up. Dakota Chalmers has the best shot, but he is a long shot, at best.
For several months, or basically the last year, many of my friends have been expecting that the Cubs are going to have a bloodletting when it comes to the minor league rosters. But with the amount of injuries they had last year, that postponed many potential releases. Some of those long-awaited cuts might come tomorrow or in the next few weeks. I would not be surprised to see 30+ players be let go before spring training via free agency and outright releases. 
It is hard to read that in print sometimes but the organization does have to trim itself occasionally in order to grow.
This winter, that needs to happen so that some of the young prospects have a place to play and develop. Just based on the amount of minor league free agents the Cubs will lose tomorrow, that appears possible. And that will be a good things as it has been a few years since we've actually seen a prospect heavy team at Iowa. I am looking forward to seeing lots of prospects in Des Moines. We should see Brennen Davis, Chris Morel, Nelson Velazquez, Miguel Amaya, Brailyn Marquez, Caleb Kilian, Ethan Roberts, Brandon Hughes, Cayne Ueckert, and many other guys the Cubs have drafted, signed, and developed. That is how it is supposed to work.
---
Meanwhile, Here at North Side Bound…
All four of us published our prospect rankings on Monday and they are all quite different. Strangely enough, between the four of us, we only listed 23 people total prospects on the four lists. I thought that was pretty cool that there was not a lot of variation in who we think the top 20 guys are. However, our rankings are totally all over the place. We will have a recap of the rankings this week and some sort of aggregate North Side Bound ranking to come out any day.
On Monday, I was honored to write the opening day post for the website while on Tuesday Greg Zumach wrote the first prospect profile as he broke down Nelson Velasquez and his 2021 season and torrid Arizona Fall League campaign. Greg Huss did his mid week reports of things people were talking about cubs prospects. On Thursday, I broke down minor league free agency and I also wrote about some breaking news with some transactions. Greg Huss also published the Growing Cubs Podcast as he Jimmy were "interviewed" by relief pitcher Brandon Hughes. On Saturday, I also did a nice update on Andy Weber who is also tearing it up in Arizona.
---
Coming Up Next Week
The biggest thing I am looking forward to next week at North Side Bound is the post debut of Jimmy Nelligan. As of now, Jimmy will be waxing poetic about long-time Cubs lefty Bryan Hudson. Hopefully, Hudson will still be a Cub when Thursday rolls around. I am excited to see what Jimmy has to write and analyze!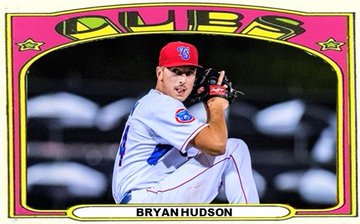 ---
Poll of the Week