Picture by Dave Baker
It is hard not to love Andy Weber once you see him play in person. Every action, every move has a purpose whether he is in the field or at the plate. Heading into 2021, Weber was slated to begin the year at Double-A Tennessee. He was basically skipping High-A South Bend. Unfortunately for Weber, nagging injuries limited him to 41 uneventful games. After playing 20 games in May, Weber played sparingly the rest of the season.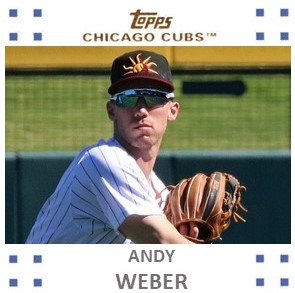 Stat wise, it is not worth getting into how Weber did at Double-A.
What is worth getting into his how he has done the rest of his time as a Cub.
For Weber, his career as a Cub has been pretty productive. At first, Weber played a mixture of second and third at Eugene in 2018 after winning a NCAA title at Virginia. In 2019 he shifted to shortstop. His bat lagged the first month of the year before he hit almost .280 in the second half of the season and he was part of title winning South Bend squad. He showed great poise down the stretch and late in games including a HR in the championship game.
As a result of that pedigree, hopes were high for Weber heading into 2022.
After a slow start in Arizona, Weber caught fire and was hitting .317 with a .963 OPS in Arizona as of Friday morning. It has been an impressive display of hitting and polish after a an injury riddled season. His performance is also very hopeful for him heading into 20022. It may even lead to him starting off 2022 in Triple-A Iowa.
In fact, his work in Arizona has been on display quite often on Twitter in video and picture form.
Weber sat down with Lance Brozdowski of Marquee Sports to discuss his fall league success. "i'm learning how my swing works better." He also mentioned that he is trying to get bigger and stronger. Click the video or link below.
The question that you are probably wondering is when will Weber be ready?
The answer to that really depends on his bat. When he gets to Triple-A, his defense will be more than MLB ready. He has intangibles to stay calm under pressure and he has a Zagunis-like knowledge of the strike zone. It is really about him putting the ball in play for hits. I am not worried about power, or walks, just hits. As his OPS shows this fall, he is very good when he is healthy. He just needs to stay that way.